Dramatic weight loss as a result of the "Virtual" Gastric Band technique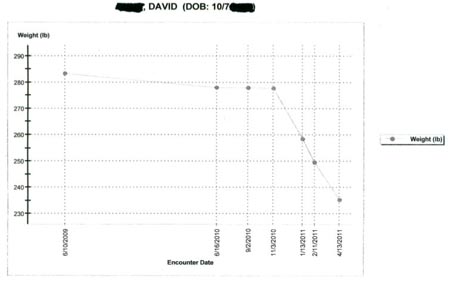 A Virtual Gastric Band client, David, came to see Dr. Bill Engle 6 months ago due to health related weight issues.  He was experiencing many health problems, and one of the ways his doctors had said he could help defeat these health related problems, was to lose weight.
Within weeks of his original session, David was successfully losing weight.
Now only 6 months later, he continues to lose weight, as evidenced by this weight chart, and is seeing his health improve as well.  His doctors have been able to take him off several medications for weight related health issues.
If you are experiencing similar health related weight issues, Dr. Bill Engle may be able to help you.  Please contact him to discuss your options.
If you'd like to get more information about the process, and meet Dr. Engle in person, you can come to one of his workshops at the La Habra Community Center.  There's a workshop on Sept 13, and four more in October.  Sign up via the workshop link on the PDHypnosis.com website.